Came across this fascinating article by Zeynep Tufekc, "a Turkish writer, academic, and techno-sociologist known primarily for her research on the social implications of emerging technologies in the context of politics and corporate responsibility.-wikipedia".
The Real Reason Fans Hate the Last Season of Game of Thrones -It's not just bad storytelling—it's because the storytelling style changed from sociological to psychological.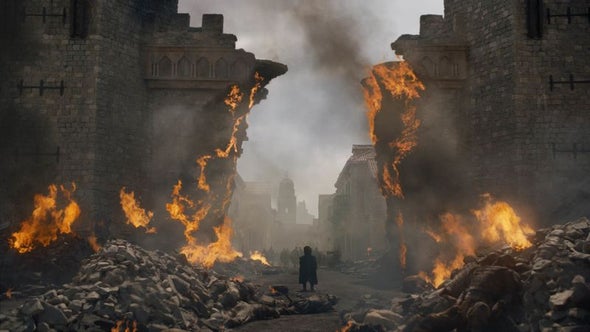 Zeynep thinks GRRM's original writing employed sociology style of story telling, while the show runners style is psychological story telling.
One clue is clearly the show's willingness to kill off major characters, early and often, without losing the thread of the story. TV shows that travel in the psychological lane rarely do that because they depend on viewers identifying with the characters and becoming invested in them to carry the story, rather than looking at the bigger picture of the society, institutions and norms that we interact with and which shape us. They can't just kill major characters because those are the key tools with which they're building the story and using as hooks to hold viewers.

The appeal of a show that routinely kills major characters signals a different kind of storytelling, where a single charismatic and/or powerful individual, along with his or her internal dynamics, doesn't carry the whole narrative and explanatory burden. Given the dearth of such narratives in fiction and in TV, this approach clearly resonated with a large fan base that latched on to the show.

In sociological storytelling, the characters have personal stories and agency, of course, but those are also greatly shaped by institutions and events around them. The incentives for characters' behavior come noticeably from these external forces, too, and even strongly influence their inner life.
She then moved on to more personal scenario which i also found fascinating.
When someone wrongs us, we tend to think they are evil, misguided or selfish: a personalized explanation. But when we misbehave, we are better at recognizing the external pressures on us that shape our actions: a situational understanding. If you snap at a coworker, for example, you may rationalize your behavior by remembering that you had difficulty sleeping last night and had financial struggles this month. You're not evil, just stressed! The coworker who snaps at you, however, is more likely to be interpreted as a jerk, without going through the same kind of rationalization. This is convenient for our peace of mind, and fits with our domain of knowledge, too. We know what pressures us, but not necessarily others.

The hallmark of sociological storytelling is if it can encourage us to put ourselves in the place of any character, not just the main hero/heroine, and imagine ourselves making similar choices. "Yeah, I can see myself doing that under such circumstances" is a way into a broader, deeper understanding. It's not just empathy: we of course empathize with victims and good people, not with evildoers.

But if we can better understand how and why characters make their choices, we can also think about how to structure our world that encourages better choices for everyone. The alternative is an often futile appeal to the better angels of our nature. It's not that they don't exist, but they exist along with baser and lesser motives. The question isn't to identify the few angels but to make it easier for everyone to make the choices that, collectively, would lead us all to a better place.
This resonated with me strongly because i've been reading up on the three Punic wars during Roman republic time. The first Punic war was played out very different from the second. The Romans fought the first Punic war as a republic, but shifted its style in the second. I've been wondering about the difference lately.
Zeynep's article moved on to more interesting territory and gave me an ah-huh moment.
In German playwright Bertolt Brecht's classic play, Life of Galileo, Andrea, a former pupil of Galileo, visits him after he recants his seminal findings under pressure from the Catholic Church. Galileo gives Andrea his notebooks, asking him to spread the knowledge they contain. Andrea celebrates this, saying "unhappy is the land that breeds no hero." Galileo corrects him: "Unhappy is the land that needs a hero."

Well-run societies don't need heroes, and the way to keep terrible impulses in check isn't to dethrone antiheros and replace them with good people. Unfortunately, most of our storytelling—in fiction and also in mass media nonfiction—remains stuck in the hero/antihero narrative. It's a pity Game of Thrones did not manage to conclude its last season in its original vein. In a historic moment that requires a lot of institution building and incentive changing (technological challenges, climate change, inequality and accountability) we need all the sociological imagination we can get, and fantasy dragons or not, it was nice to have a show that encouraged just that while it lasted.
During the first Punic war, the Roman society was well-run. It was smart and the senate could always make the right decisions. The consuls change every year, but the senate worked together with each new set of consuls managed to defeat Carthage. There was no heros, but the society grew stronger, and everyone else benefited around the Mediterranean.
But the success was their downfall, power and prosperity corrupted Roman, by the time second Punic war started, the society moved toward one that need heros. In responding to Hannibal, Roman got their Scipio. Roman empire started forming then. The rest is history.